How the Gig Economy can boost your Customer Service Department in 2020
The online gig economy in 2020 offers exciting new ways for businesses to team up with remote workers. Gig workers can boost the flexibility, accessibility and capacity of your customer service department.
The gig economy enables your business to face current and future challenges cost-effectively. It also empowers workers to choose how, when and where they work.
Leveraging the benefits of the gig economy is the logical next step in an evolving working world. Failing to leverage the significant opportunities it offers may cause you to fall behind your competitors, impacting your long-term growth.
In this post, we explore the latest data on the online gig economy. We also take a look at the companies who are already tapping into the gig economy to address the unique challenges customer service departments face in 2020.
Let us first start with the basics. 
What exactly is the gig economy in 2020?
The present definition of the gig economy depends on who you ask.
Although attempts are being made, such as with the Gig Economy Data Hub, to establish a standard definition, the term currently refers to a diverse group of workers. These workers range from independents to permanent employees.
This includes full-time freelancers, specialist consultants, part-time employees and on-demand workers such as Uber drivers. It also includes seasonal farm workers and full-time employees with side gigs, among others.
Our blog article focuses solely on the online gig economy. We specifically explore how online gig work can help grow your business in a financially sustainable way.
Why is it important for your business to tap into the gig economy?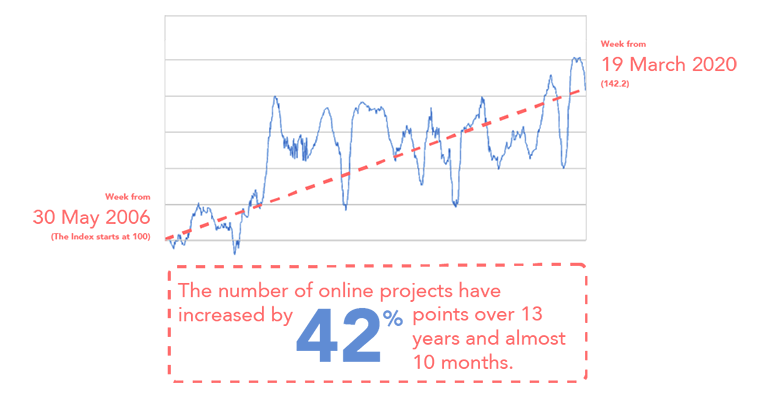 The graph above shows how the use of online labor, despite a few ups and downs, has steadily increased over more than 13 years.
The data in this graph is based on the live data tool, the Online Labor Index, developed by the Oxford Internet Institute. This tool was specifically created to address the need for better and more trustworthy online labor statistics.
This data shows that online gig working is not a fleeting trend. It is the logical consequence of the evolution of digitization, representing a new working paradigm that reflects the growing need for greater flexibility for businesses and workers alike.
The online gig economy enables you to build resilient, more accessible customer service teams by integrating online workers into your existing teams, delivering benefits that ensure that it is here to stay.
It is not replacing "normal" work forms; they are supplementing them.
Has your business tapped into the online gig economy?
Companies who are reaping the benefit of the gig economy
The online gig economy offers you digital tools for establishing customer service partnerships ranging across time zones and countries.
These modular tools can be adapted to your company. They can be used to maintain a collaborative digital relationship between loyal customers, the brands they use, and prospective customers.
Many leading companies are tapping into this logical next step in an evolving work paradigm.
BRACK.CH

BRACK.CH, among Switzerland's leading online shops, uses the online gig economy to augment and strengthen its customer service.
Existing customers are encouraged to test their knowledge about specific products. They are also encouraged to become part of a network of peer product users willing to tackle questions from other users.
These expert customers are proud to share what they know. Consequently, they are rewarded both monetarily and with the gratitude and appreciation of those they assist.
ifolor

At the photo processor ifolor, some employees enjoy getting involved in expert product user communities. These employees usually participate in their spare time to earn a bit on the side.
They pride themselves in their product knowledge and are a true asset for other users seeking assistance.
GUURU

GUURU uses the online gig economy to create a pioneering customer service solution. This solution helps customer service departments effectively and efficiently deal with peak periods.
AI effectively sorts incoming enquiries into those that can be handled by the SmartBot and those that cannot. The latter is then sent to clusters of pre-qualified expert product users.
More complex issues requiring access to internal data are routed to traditional customer service agents working in-house or remotely.
The online gig economy offers you a cost-effective way to tap into a whole new world of human resources. It empowers your business to find new solutions to unique challenges in your customer service department.
Savings on infrastructure and personnel are pre-programmed while availability, accessibility and flexibility are enhanced.
How can your company profit from the online gig economy? You can be sure that your competitors are asking themselves the same question.