How to increase your NPS – And why NPS matters
Net Promoter Score (NPS) has become a guiding star on insights in customer relationships. Here's how NPS works, why a good Net Promoter Score is important, and how to increase your NPS.
Net Promoter Score is a buzz-term in customer service, but what exactly is it? Also, why is it so important for the long-term growth of your business and how can you increase your NPS?
In short, NPS is a data tool that helps you collect info on whether your clients are happy with your service or not. More importantly, it is a tool that is said to be more effective than its more traditional alternatives.
What makes the NPS different is the survey question at the heart of the tool. Rather than asking customers "Are you satisfied with the service?", the NPS relies on: "How likely are you to recommend our company?"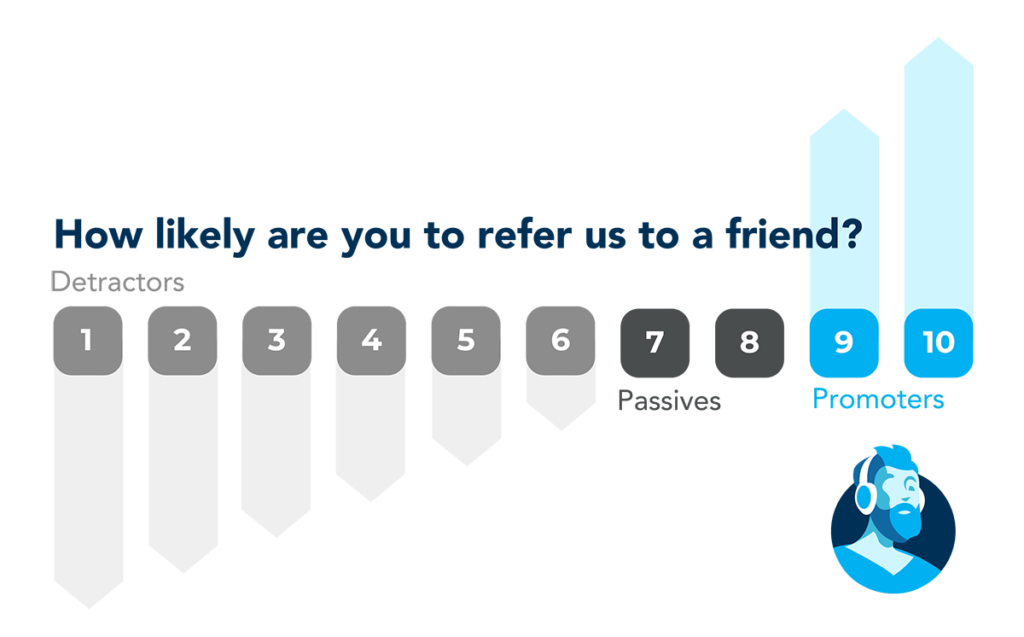 Knowing how many customers are willing to refer to you tells you a whole lot more than whether your service is merely acceptable, argues to the creators of the Net Promoter Score, Bain & Company.
A satisfied customer would switch companies as soon as a better offer comes along (see our blog article "Vital insight into client retention in 2020″)
While a "promoter" or a "brand advocate" would not only refer to your business, they are also more likely to stick around long-term.
How do you calculate your Net Promoter Score?
Your Net Promoter Score is determined by starting with your number of Promoters (those who select 9 or 10) MINUS your number of Detractors (those who select 1 – 6). Passives (those who select 7 or 8) have no effect on the score.
Keep in mind setting up your survey and NPS analysis is more complex than just 1 question. You can refer to the Net Promoter System for more detailed information.
Why is a good NPS important?
Companies who have the highest Net Promoter Scores in their industries, experience much faster organic growth than their competitors – twice as fast – according to Bain & Company's research.
Despite only making up about 2% of your total customers count, customers who act as advocates for your brand are responsible for 20% of your business's direct revenues, research by the Boston Consulting Group shows. They are also responsible for 80% of the revenue earned via recommendations.
This is BIG.
Making a small percentage of your customers extremely and unwaveringly happy can deeply impact your future growth.
Loyal customers buy more, buy again, and retain confidence in your brand even when there might be some hiccups at some point. It may also be, because they are willing to give you constructive feedback, without hitting the road.
Knowing who your loyal customers are and leveraging their knowledge is extremely important and beneficial.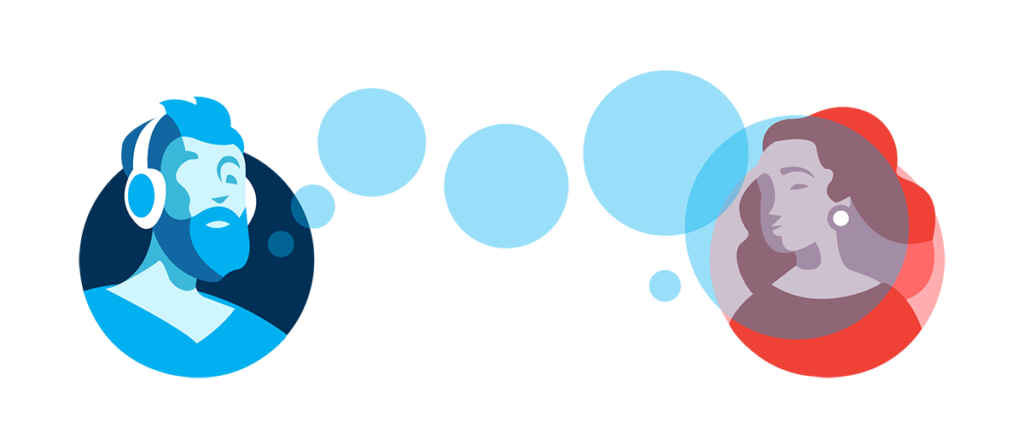 Various factors influence your NPS, however, customer experience is VERY important. In fact, customer experience (CX) is about to overtake both price and product as a key brand differentiator.
While there are various elements to a great CX, customer service is fundamental. Research shows that consumers increasingly expect real-time customer service at any hour.
Here are a few ways you can improve your CX by improving your customer service:
Offer real-time customer service that's available 24/7 on whatever platform your customer is using, from Facebook to Whatsapp.
Ensure your customer has access to real human support 24/7, rather than relying exclusively on chatbots.
The challenge with offering human-based support 24/7 is the cost. However, thanks to AI, machine learning, and data on your loyal customers there is a cost-effective and scalable solution: a customer-to-customer service solution.
Here is a quick look into what a customer-to-customer solution could look like
As soon as a customer sends an online inquiry from any digital platform about your products or services, a proprietary algorithm matches the inquiry with a loyal customer best suited to answer it.
For each question a promoter answers, they get compensation.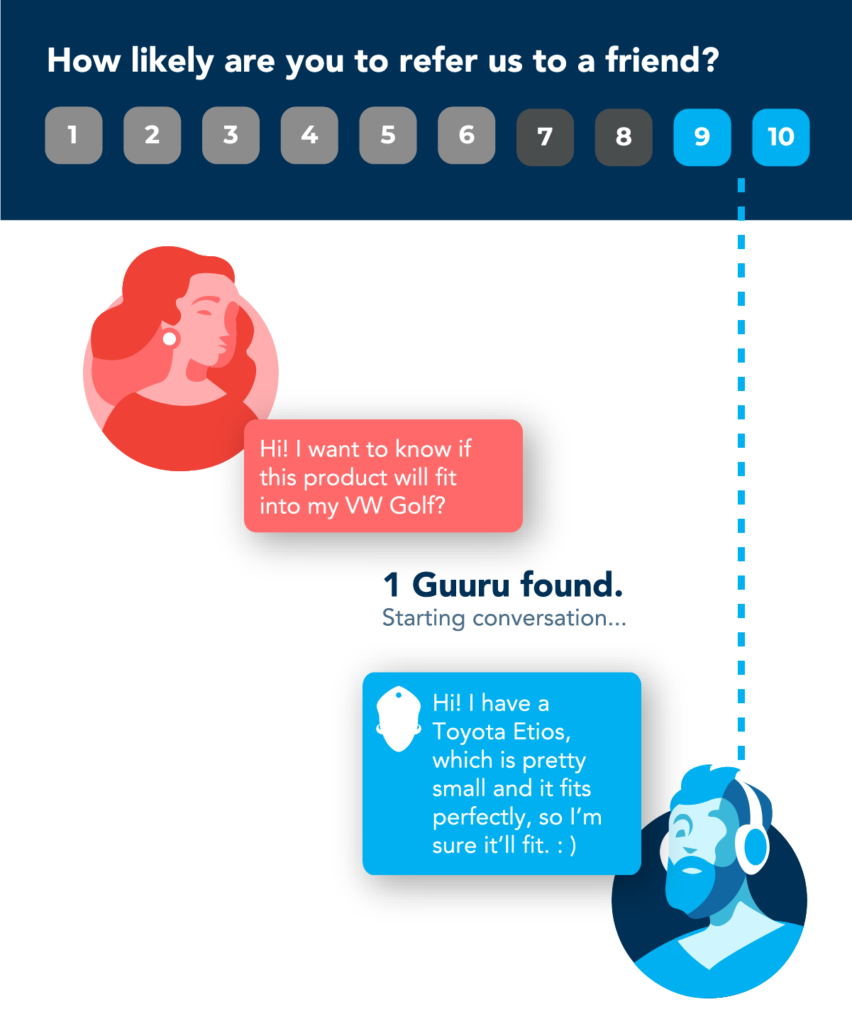 NOW TV Italy (Sky Group) have increased their NPS to 53 after implementing a customer-to-customer service. That is 29 points higher than the market average. You can download our case study here.
In the eCommerce industry, ensuring you have consumer-to-consumer support on any platform and at any hour consistently pushes an average Net Promoter Score up to 75 – that is 30 points above the average.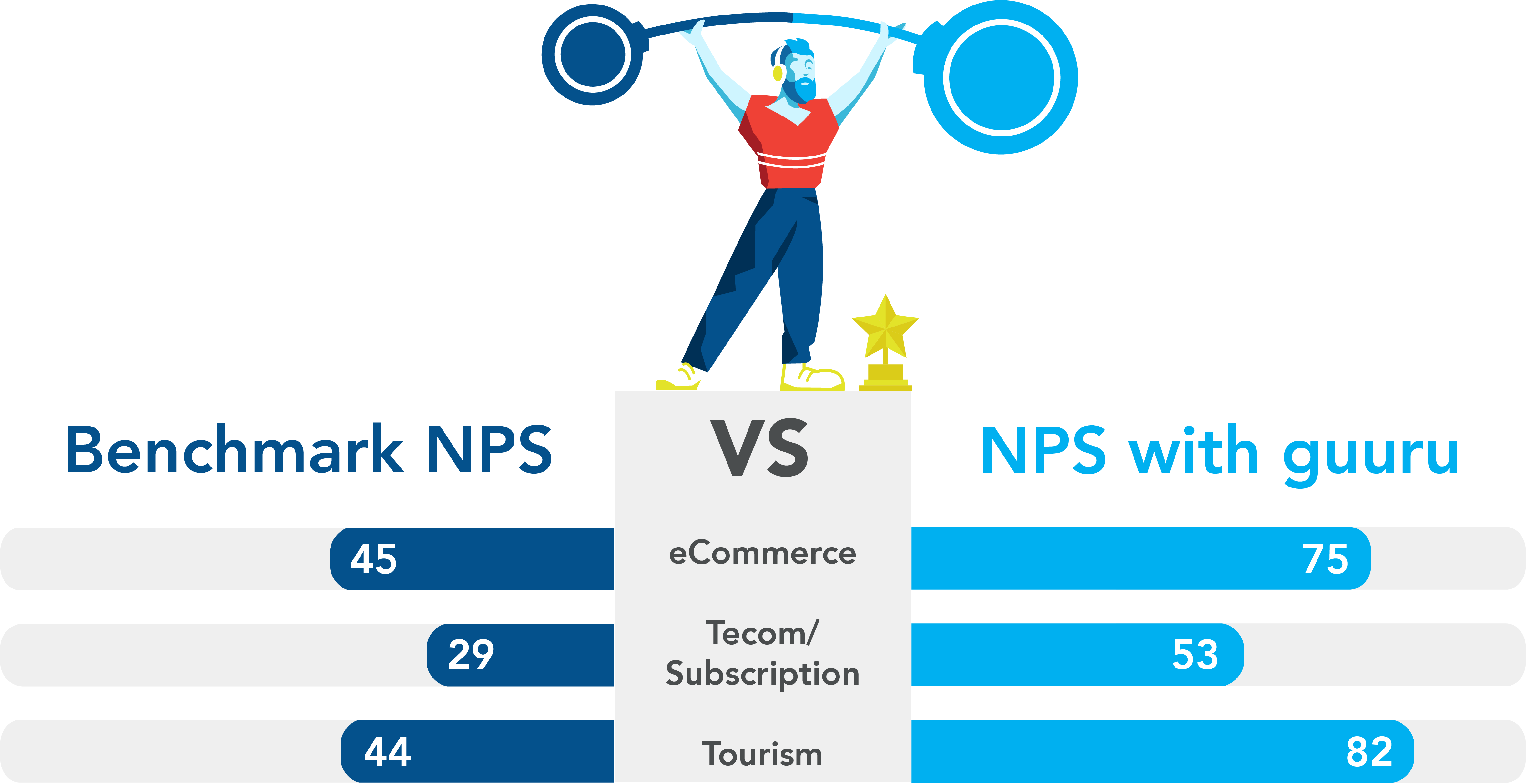 Using a Customer Service Platform that allows promoters to connect with customers on any digital channel, from anywhere in the world, allows a unique chance to amplify the voices of your loyal customers.
This way you can reward your most loyal and most knowledgeable customers for their expertise and you can offer other customers real-time access to authentic, human support.
If you'd like to learn more from our customer-to-customer solution, click here.