Maximise sales with exceptional human online support

Listen to your customer's preference
43% of customers prefer online channels to interact with their Telco service of choice, but currently Telco's only dedicate 20% to online sales efforts. *
With GUURU's CX Platform, you can connect your brand community directly to your inquiring customers during critical stages of the customer journey to convert sales.
Meet your customer's expectation and offer online human sales and support at the same quality as you do in-store. Scale individualised online support that's 2.5 times more cost-effective than in-store support. *
Source: ATKearney
Authentic advice from a brand advocate
Dalia wants to choose a subscription plan tonight. If you don't give her authentic advice while she's scrolling through your website, she'll click to your competitors site.
Customers trust customers. By connecting Dalia in real-time to your brand advocate, Luca, she gets immediate, insightful advice from a real customer who's been using your products since 2017.
Authentic advice that's instantly and easily accessible, at the right moment in the customer journey, improves sales conversion and customer satisfaction.
We match the best source of support to every unique inquiry
SmartRouting is real-time technology that identifies inquiries and routes them to the best, most cost-effective answers. Below are the top 3 inquiries, instantly resolved according to support type.
Top 3 inquiries for the brand community
Advice on current offers
Advice on portability
Technical advice with a router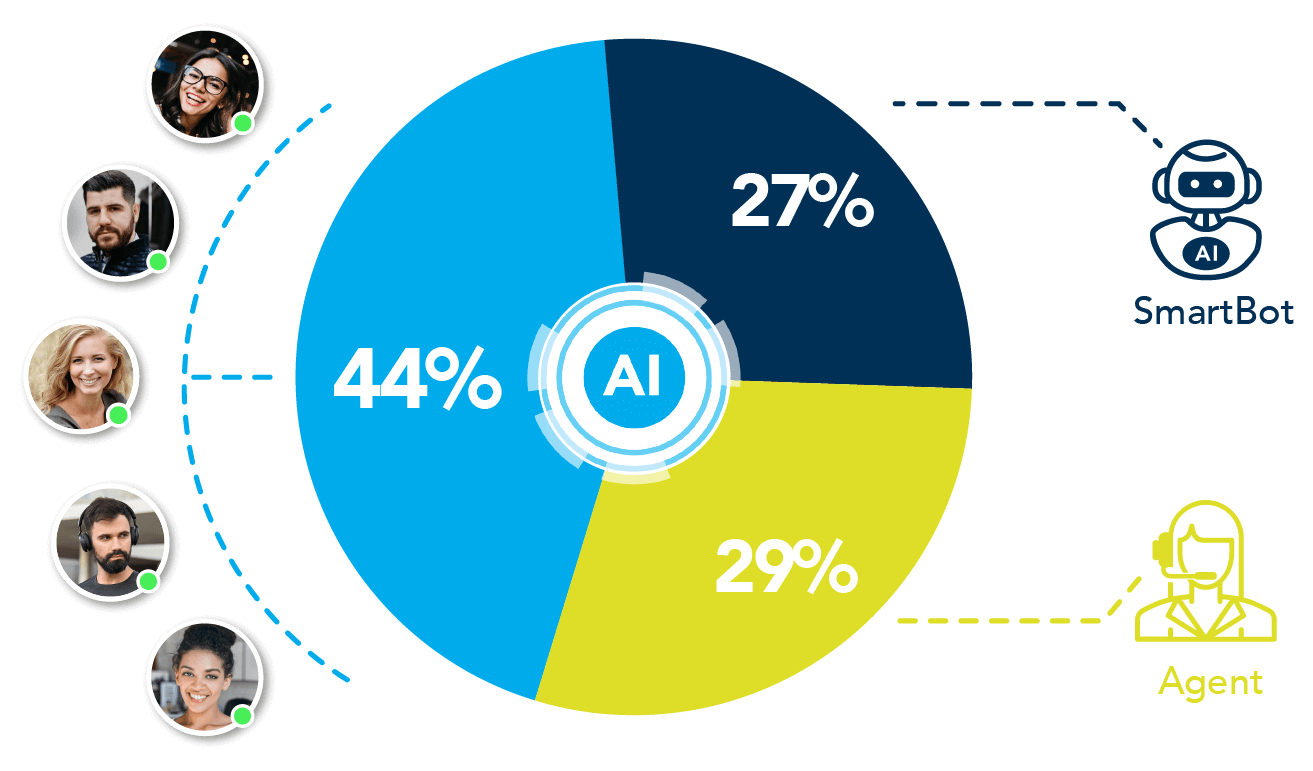 Top 3 inquiries for the SmartBot
Info on the status of a SIM order
Info on service cancellation
Info on SIM activation
Top 3 inquiries for agents
Support with number porting
Support with service cancellation
Support for incorrect payment reminders
How Salt instantly resolves inquiries using GUURU

Salt, the internet provider with the best performance (nPerf, 2021) in Switzerland is relying since 2018 on GUURU to offer its clients multi-language assistance in router installation via 24/7 live chat. Salt uses the combined power of AI technology and the product expertise of its certified brand advocates to resolve inquiries instantly.
Key results
CSAT: > 4 / 5
Degree of automation: > 67%
Average response time:  < 60 sec
Average chat handling time: 12min
KPIs our clients reach using GUURU
Salt customers benefit from faster answers thanks to a high degree of
automation and a human touch when valuable. GUURU exceeded our expectations
in terms of efficiency gain and customer satisfaction."

Stefano OrlandoChief Customer Operations Officer
Learn how your community can benefit your Telco service